Many environmentally friendly products "conquer" consumers
Thursday, 27/02/2020
Many eco-friendly products are made from fermented tomatoes such as dishwashing liquid, hand wash, floor liquid, ensuring absolute safety for consumers.
Cereal straws; lunch boxes, cups made from bagasse; bags made from corn starch, instead of nylon bags.
The products are increasingly welcomed by consumers and manufacturers have also prepared enough supplies to meet the needs of the Lunar New Year 2020.
Cereal straws
Ms. Hoang Thi Lan Anh, Director of VinaStraws Joint Stock Company (Kim Lien Commune, Kim Thanh District, Hai Duong Province) said, "in early 2019, once reading the newspaper, I found that plastic straws are terribly polluting the environment. At the same time, there was a young person in Korea, replacing plastic straws by straws made from rice flour, cereals, I came up with the idea of experimenting."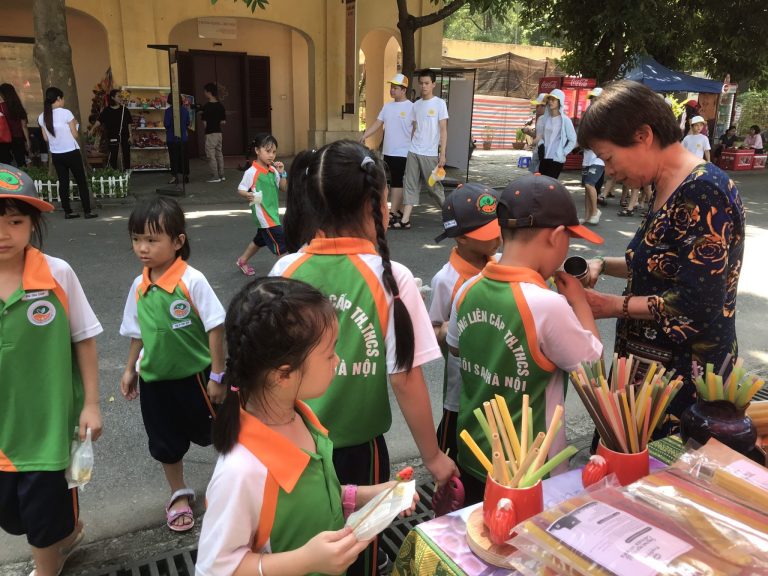 Soon after, she met friends working in the field of biochemistry and food for cooperation. Thankfully, the group agreed, and they got their hands on producing cereal straws. Cereal straws are 100% manufactured from rice flour, cassava powder, salt, water, no preservatives, which replace plastic straws with a life of up to 500 years when buried in the ground. In addition, to have eye-catching natural colours, Vinastraws totally use plants and flowers to create the colour of the straws such as red from Gac and Magenta leaves, yellow from turmeric, orange from carrot, blue from blue pea flower,…
Accordingly, the straws can be used for 1.5 – 2 hours, then expand, but remain in shape, not affect the taste of the drink, and can be eaten. After using, we can return it back to nature, they will decompose in around 60 days without any effects on the environment. The shelf life of them is 18 months and noted to be stored in a dry place. The average selling price is VND 25,000/ box/50 straws, about 500-800 VND/straws, depending on its diameter.
Currently, the straws have been used in many coffee shops and milk tea shops in Hanoi, Quang Ninh, Hai Phong, and Hai Duong. There also has been a large number of exports to England, Australia and Sweden… Cereal straws have been independently tested in order to hold the associated SGS certifications for food contact materials and get ISO 22000:2018 certification.
She said: "It is remarkable that more and more people are choosing eco-friendly products, to ensure the health of family and community. Especially the young, they absorb and respond very quickly. On our side, we always want to make a small contribution to minimizing the impact on the environment and ecosystem through specific and effective solutions."
On the other hand, this is also the policy of the Party and the State of Vietnam in promoting the process of restoring the living environment, returning the freshness to nature and taking care of the community health. "